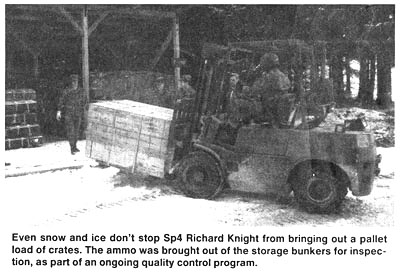 1987
(Source: JOBBER, March 16, 1987)
501st Ordnance Company providing VII Corps with 'No-Slack' support


by Chuck Gordon

"FIVE-O-NO SLACK, SIR?"

That's the word in the

501st Ordnance Company

, 101st Ordnance Battalion.

You can hear it when the company falls in, when they do their physical training, and when a soldier and officer exchange greetings.

Then, of course, there's No SLACC Day, when the No Slack soldiers take over the No Slack Company. Every leadership slot, from company commander to platoon sergeant, is filled and run in a No Slack manner by the month's No Slack soldiers, all E-4 and below.

SLACC, in the case of the 501st, is an acronym for "Subordinate Level Alternate Chain of Command."

Capt. Ronald Settle, 501st company commander, said, "I only recently took over this command, but when I did step into this slot, the company was already tight.

"To me, that says a lot about the 501st's former commander. To the soldiers here, he was sort of a minor deity, you know, he walked on two layers of water!" Settle said.
to help keep the unit's morale and spirit at a high level, Settle held a contest to create a slogan for the 501st.

"A lot of slogans came through -- some good, some not so good, some pretty weird," he said.

When all the ballots were in, the judges chose "No Slack," adding the "5-0." The slogan had been used by the 2nd Magazine Platoon for some time, and it summed up what the company felt and put into practice.

And the 501st lives up to its motto. The company works smoothly and everybody takes up a little slack, until all that's left is a tight fabric, woven by a hard working unit.

Their main mission is handling munitions for the largest sector of support of any ammo company in VII Corps.



"These soldiers bust their butts out here. Nobody realizes how much effort goes into that little crate of blanks for an FTX, or the case of M60 rounds for qualification. It is a demanding and often thankless job, but these people do it, day in and day out. We hump the ammo out to any unit in our sector that needs it," said CWO 3 Jimmy Calloway, the 501st's accountable officer.

As accountable officer, Calloway is responsible for the records and tons of ammo that the unit deals with on a constant basis.

"We work. We work hard! This is a good job though," said Sgt. James Dawes, assistant ammunition storage specialist. "Ammo can be dangerous, and you think about that sometimes, but not too much. You can't let that worry you. Our training is good and safety first."

The 501st works mainly at

Pre-Stock Points

(PSPs) and

Forward Storage Theater Sites

(FSTSs). There, rows of squat, earth-covered storage bunkers hold the ammo, which will be used by VII Corps.

"We get a lot of time out in the magazines, the bunkers. We stack, sort, inspect and restack the ammo. And we get a lot of experience running the forklifts, but a lot of the ammo gets moved by muscle power," said Dawes.

Winters slow things down for a lot of units, and the 501st is no exception. However, the slack time gets put to good use, doing internal "housekeeping," getting equipment and gear inspection-ready, and cleaning.

"Winter means maintenance," said Dawes. "We clean and repair and inspect and clean some more. We use the time to check out our vehicles and equipment to be sure they're field-ready and in usable shape."

"Right now we are just back out of the field, and we have to get all our gear ready for a validation inspection. Everything from TA-50 to the vehicles will be cleaned and ready to go," said SFC Allen Clinton, maintenance NCO for the company.

Clinton's

maintenance and service platoon

takes care of more than 70 vehicles, including forklifts, ranging from 4,000 to 10,000 pounds, and vehicles from one-and-a-quarter CUCVs to the 501st's massive 12-ton tractor rigs. And the company even has a genuine John Deere discing machine.

"As near as I can figure, the disc is for plowing around in a field," said Clinton. "But it would come in handy for building a fire break or turning up the ground for mines and such. We've never used it, and we don't really have anything designed to pull it. But we have it if we ever need it."

As far as structure, the 501st is composed of the M and S platoon, two magazine platoons, and the headquarters platoon.

A magazine, to the 501st, is more than something to read or slap into your trusty M-16. It is also a storage facility for large amounts of ammo. The magazines and their contents are the prime concern for the 501st.

The company is responsible for more than 98 of the thick-walled bunkers scattered around their sector

, ranging in distance from three to 75 miles from the company's home base.

"Something is always moving. At times, we'll get a line of trailers stretching all along the rows of bunkers, all full and waiting to be loaded or unloaded. The soldiers will unload the crates onto a forklift, stack it into the bunker, re-arrange it so everything fits and is stored safely, and then the next day, start loading them out of the bunkers back into trailers to be sent to a unit," said CWO 2 Bill Sutton, Calloway's replacement.

And the 501st goes through all of this, just for that round of blank ammo you'll blast into an aggressor on an FTX. So the next time you qualify, or play Rambo in the field, think of all the work, dedication and planning it took to get that round to you. Think of the 501st, the "No Slack" Company.